Here's What You'll Find in the Catalog:
Follow the Dotted Line
A New Mystery Novel And Kind Scout Winner!
By Nancy Hersage
Now available on AMAZON!
Watch the 1-Minute Book Trailer.
(It's almost as funny as the book!)

BASED ON A BIZARRELY TRUE EVENTS
Andrea Bravos is jolted into action when the ashes of her ex arrive in a burger box via the US mail. Andy's quixotic adventure to find out what happened will upset the officials of several small countries, insult the founders of three major religions, give her four adult children acid reflux and lead her to assault with a deadly golf club. Bizarrely, the story is almost all true: even the avocados, WWII spy, IRS agent, palm reader and that spider. Move over Marple and Plum, here comes Andy!
Read more about the new book.
A New Musical About Coming Out in High School
By Nancy Hersage and Molly Hersage with arrangements by William Liberatore


A musical about coming out in high school which premiered in the San Francisco Bay Area in 2013 and is now available through the Dramatic Publishing Company. The script, score, CD musical accompaniment and a video sample are  now available. More …
Watch a short video about the premiere of Out!
A New Full-Length Feature Comedy Script
By Nancy Hersage and Molly Hersage
Currently Under Option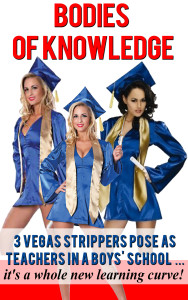 Ritchie Andersen loses his posh Vegas strip club and a pile of money to a mobster in a poker game. Unable to pay off the debt, he hides out by taking a job as headmaster of a private Connecticut boys' school–where he promptly hires three of his strippers as classroom teachers.
It's a real mermaids-out-of-water story and it looks like they'll never survive. Desperate to keep them teaching and himself off the mafia radar, Ritchie tells his great and gorgeous imposters that educating adolescent boys is not that different from entertaining adolescent men. Just use your strip club techniques to get their attention in the classroom, he advises. They do — and the results are both hilarious and educational — as each of our four misfits learns an important lesson about self-confidence, self-respect and, yes, even love.