Heavenly Bandstand
A Royalty Free Musical
Get out your poodle skirts and hair cream and prepare to stroll, mash potato and doo wop your way down memory lane. Our heroine, high school senior Annette, has fall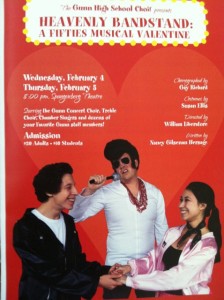 en asleep in English class. In her dream, she is visited by Johnny Angel, who is desperate to leave his celestial home and return, one more time, to the Top Forty. But in order make it back to earth, he will have to compete on Heavenly Bandstand. Hosted by none-other-than Dick Clark, the competition features the holiest music of the 50s and Johnny's rivals include the King Himself, Elvis. Join the fun, as Johnny battles for his place on the charts, Annette searches for true love, and the rest off us once again savor the sweet taste of American Pie.
Download and Save Script: Heavenly Bandstand
View a video of the show: Heavenly Bandstand